In an age where digital communication reigns supreme, the importance of face-to-face interactions can sometimes be overlooked. However, at Kirkstall Precision Engineering, we firmly believe that personal connections are the bedrock on which enduring business relationships are built. Our recent participation in the MedTech Ireland trade show underlined the invaluable nature of these human interactions.
A week to remember
"It's absolutely crucial to meet our clients and industry colleagues in person," emphasises Iqbal Bahia, Managing Director of Kirkstall Precision Engineering. "Virtual meetings have their place, but nothing can replace the understanding and rapport that's built when you're sitting across the table from someone."
We kicked off our week with visits to key customers and partners in Ireland. This included stops at DePuy Synthes in Cork , SteriPack and Renishaw Ireland.  These visits offered us an unparalleled chance to understand their evolving needs, share our expertise and discuss ways to improve our collaborative efforts.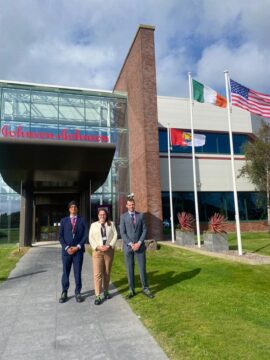 Reconnecting with industry friends
Trade events like MedTech Ireland are more than just business opportunities; they're a chance to catch up with familiar faces in the industry. We had the pleasure of meeting up with old friends from Renishaw Neuro and Lockdown Medical Limited.
Adam Thornton, CEO of Kirkstall Precision, highlights, "The real joy of these events is the chance to reconnect with industry colleagues and take stock of how far we've all come since our last meeting. It's always stimulating to share stories of mutual growth and successes."
Special moments with medical engineers
A particular highlight of our trip was our interaction with Samantha Moore, the CEO of Medical Engineers, and Hannah White, Recruitment Manager at Medical Engineers. Their visit to our stand and the delightful Italian meal we shared on Wednesday evening was a memorable experience.
"The evening was a perfect example of how meaningful business relationships extend beyond the four walls of an exhibition centre," Adam adds. "It was an opportunity for mutual learning and future collaborations, all made possible over great food and pleasant conversation."
Breaking new ground
"While it's always good to reconnect with old contacts, the ability to forge new relationships is what really invigorates us," explains Iqbal. "Each interaction, with either a fledgling startup or an industry titan, provides a unique opportunity for learning. The different perspectives we encounter can often lead to innovative solutions that benefit both parties."
The significance of MedTech Ireland
"Trade exhibitions like MedTech Ireland are much more than just a marketing exercise," asserts Iqbal. "They are a crucial platform for the entire medical device community, offering a chance to not only showcase our capabilities but also to engage in meaningful dialogue about the future of healthcare technologies."
Our stand, located at number 330 on Floor 4, provided a snapshot of our cutting-edge technologies and capabilities, all rigorously designed to meet global quality standards with a keen focus on patient well-being.
Relationships: The heart of business
Adam summarises it succinctly: "In business, as in life, it's the relationships you build that truly matter. A strong relationship is the foundation for mutual growth and future collaboration, and that's something no amount of digital interaction can replicate."
Wrapping up
So, as we wrap up a thoroughly successful and insightful week, it's clear that face-to-face interactions still have a crucial role to play in the modern, digitised business environment.
"We've returned not just with potential business leads, but also with enriched experiences and renewed energy to tackle the challenges that lie ahead," concludes Iqbal.
Here's to more insightful exchanges and mutually beneficial collaborations in the future!
Date For the Calendar: Mark your diaries for 13th to 16th November. We're excited to announce that Kirkstall Precision will be exhibiting at the Medica Exhibition in Dusseldorf. Stay tuned for more information in the lead-up to the event!